OPT: The Future!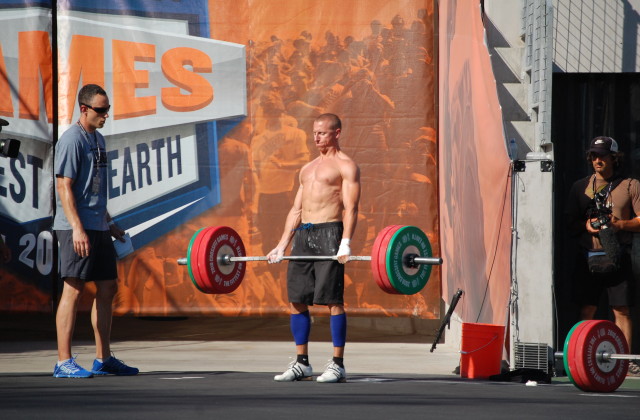 Choking on CrossFit "Kool-Aid", disillusionment resulting from the most recent behavior of CrossFit HQ management, I was a little more willing  to  acknowledge a  few glaring inconsistencies that persisted in my overall fitness level, despite my extreme passion and dedication (only one body weight pull up, few chest to floor push-ups, etc). How could I continue to utilize the underlying CF principles (minus management) which had worked so well for me in the past? How could I continue to grow stronger at the ripe age of 45 without turning to steroids and conventional body-building methods? How could I continue my quest to not only "look fit" on the outside, but also "be fit" on the inside by achieving good bio-markers of health (low insulin levels, low triglycerides, Pattern A LDL, high HDL, low CRP, normal HbA1c, etc,)? My search for answers and guidance led me to James Fitzgerald (aka OPT), the owner of Optimum Performance Training and champion of the very first CrossFit Games.
OPT • Commercial from OptimumPerformanceTraining on Vimeo.
Admiring OPT's work and clients from afar, I began following OPT's CrossFit Calgary WODs, and later his "Big Dawg" blog and programming. Within a few months I began to notice new changes in my over-all body composition as well as new strength gains. His programming reflects his extensive and varied knowledge in many aspects of health and fitness: from exercise physiology and nutrition to the study of human motivation and perseverance when faced with mental or physical challenges. Based on his dedicated study and tons of "tried and true" empirical data, OPT presents "the best of all worlds" in one cohesive package to produce dramatic results.
Gifted with a new fitness website and blog by my family Christmas morning, I've felt an overwhelming need to become more accountable than ever. Despite recent gains I must admit I have continued to enjoy the freedom of "doing it my way" – scaling the Big Dawg WODs to suit my needs and my busy schedule, working out at my own pace, and working out without posting results in the comment section as instructed. I'm one of those controlling, stubborn, fiercely independent, older women that truthfully prefer "to answer to no one". By keeping workouts comfortable and convenient, I wondered if I was holding myself back from achieving more. It was time to find out if I was actually my own worst enemy.
7 weeks ago I "stepped up to the plate" and contacted OPT to begin a formal coaching program under his supervision. My goal was to not only improve my performance, but more importantly to meet minimum performance requirements to be eligible to participate in OPT's extensive Coaching Certification Program. Via skype online video consultations, regular emails exchanges, nutrition recommendations and monthly program designs, I have learned working with OPT goes beyond reporting my progress and being accountable. The last few weeks my fitness and nutrition knowledge base has expanded:
Experiencing improved performance and body composition after committing to a completely unweighed and unmeasured Paleo Diet
Recognizing the importance of food allergies and the role they play in immune stress, performance, and recovery
Becoming keenly aware of how different foods affect my body, mood, and energy levels
Removing foods my body does not tolerate and reducing overall systemic inflammation leading to better recovery
Recognizing the very different positive mental changes that occur when completely giving up "cheat meals" (a first in 13 years for me)
Learning that hormonal balance results in better body composition, performance and recovery
In-depth understanding of adrenal fatigue and the positive and negative ways in which cortisol affects our bodies
I have also refocused my determination to "get comfortable with uncomfortable" and have been inspired to push beyond previous roadblocks to reach new limits resulting in new PR's (and sore muscles after every single workout) to prove it! At the ripe age of 45, when I've been told "it's all downhill from here", I have continued to experience positive changes in both my health and fitness level as a result of OPT's guidance and programming. I am enjoying this new journey. I am so excited about the possibilities! Pura Vida!
The following is a sampling of OPT info and videos. Enjoy!
 Every Second Counts: OPT Trailer at CrossFit Games 2009 (click on video link at end of article to view trailer)
OPT Websites
OPT Certifications
I highly recommend the Revive Bars by Peak Bio:  Gluten, Dairy and Nut free!
And the OPT's Nutritional DVDs
OPT the Family Man